Details
Spektrum XBC100 Smart Battery Checker & Servo Tester
£54.95 £59.95
Key Features
Battery checker with built in cell balancing
Advanced Servo testing feature helps with model setup
Spektrum Smart battery technology allows users to take advantage of Smart Battery features
Easy to read full colour display
Qualcomm 3.0 compatible USB power port with Quick Charge for compatible Android and IOS devices (up to 12v and 2 amps)
Update port for easy access to updates and new features
Overview
The Spektrum XBC100 Smart Battery Checker is a must have tool for any pilot or drivers pit box. More than a battery checker, it features a built-in cell balancer, integrated servo tester and driver, and Spektrum Smart battery connectivity.
When used with a Spektrum Smart battery, you will be able to see and adjust many of the settings only available with a Spektrum Smart charger. This includes one connection for balance and battery level checking, and providing records like number of cycles, internal battery temperature and exception reports. You can even adjust Smart battery settings right from the XBC100.
The XBC100 also features a Qualcomm 3.0 USB charge port, giving you an easy way to keep your mobile device and Spektrum Smart Transmitters charged when USB power ports are scarce. Better yet, the XBC100 gives you the ability to better setup and test your models with the built in servo tester! Center and test your servo endpoints easily with the integrated PWM output port.
Finally, all of this is displayed on a full colour IPS LCD screen that is designed to be easy to read in direct sunlight and is accessed via a user friendly touch interface.
More than a Balance Checker
Pilots and Drivers can stay better informed about their Lipo, LiHv, LiFe and LiIon Batteries with the Spektrum XBC100 Smart Battery Checker. With the Easy to read full colour IPS LCD display, quickly see the battery percentage, cell balance, and be notified of abnormal conditions. And if your battery cells are out of balance, the XBC100 can conveniently balance each of your Battery cells to within ±0.005V accuracy.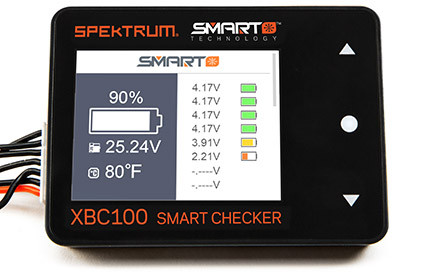 Smart Battery Connectivity
The XBC100 gives Smart Battery users a simple to use battery checker that gives all the benefits of a balance checker with just one connection of the iC3 connector. And when connected to a Smart Battery, users can check all the integrated parameters such as number of cycles, events such as over discharge and overheating, as well as adjust smart battery settings like auto storage timer and preset charge current.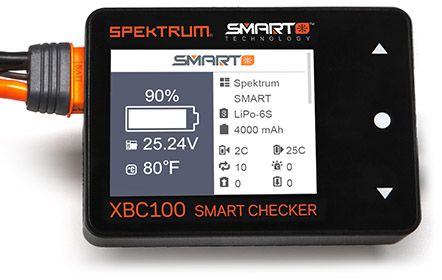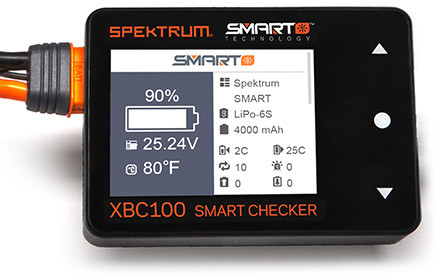 Integrated Servo Tester
Built in to the XBC100 Smart Battery Checker is a helpful pwm out port that is facilitated to be used as a Servo tester. Easily check your control ranges on any modern servo or esc. Users can Test for binding and current draw right from the checker, no special in line meter required.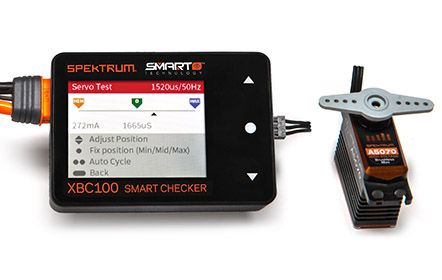 Qualcomm® 3.0 USB Charge Port
Keep your device charged and ready with the convenient USB power port. Just plug in a charged battery and hit start USB Charging and the XBC100 becomes a fast charging power bank ready to keep your Spektrum Smart Transmitter and mobile devices charged. Support Qualcomm QC 2.0/3.0, compatible with BC1.2 and Apple devices. Maximum output 12V/2A.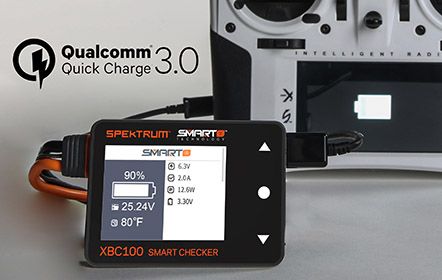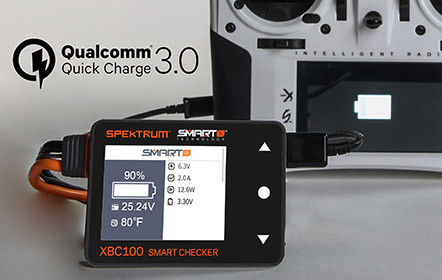 | | |
| --- | --- |
| | Download the fact sheet |