Details
GMADE 1/10 GS02 TS Chassis Kit.
£209.95 £239.95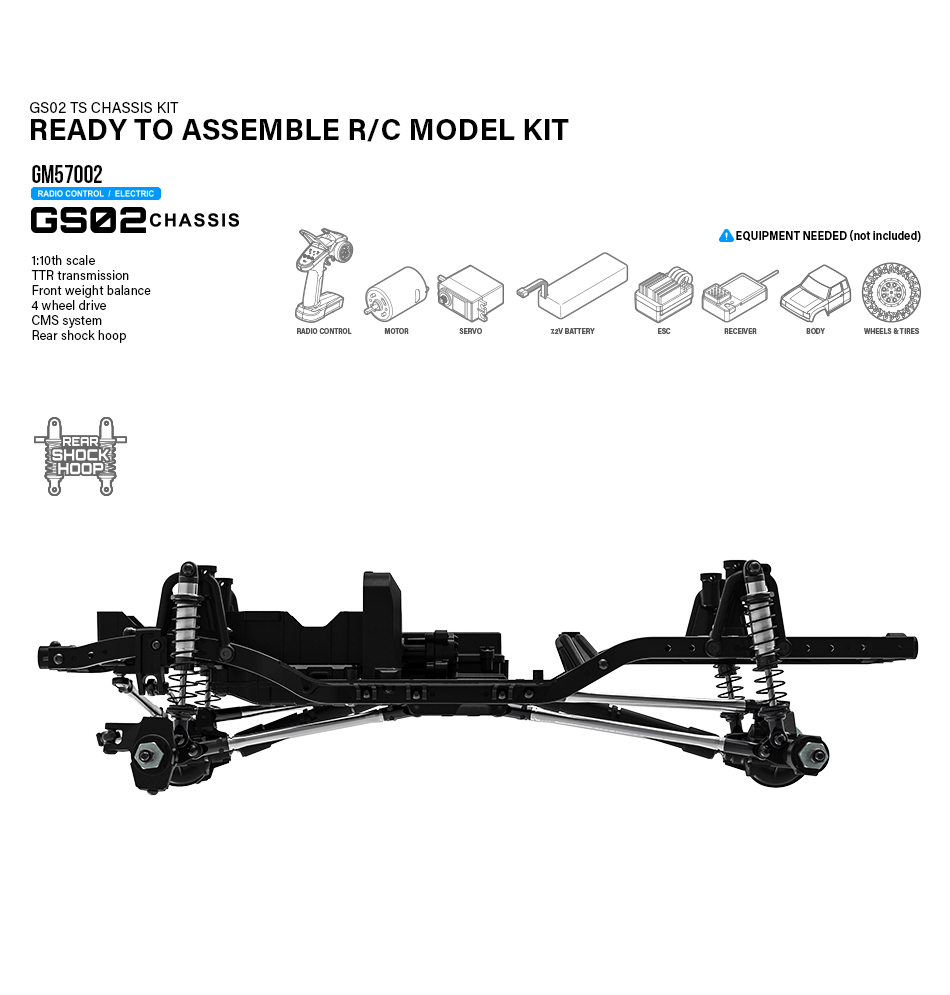 Steel Ladder Frame
GS02 frame is designed to look as a chassis of a real car frame and the material of the frame is made of high strength steel, C-channel side rail and is with hex wrench bolted with cross members, which make it resistant to twisting or wraping.
Also, steel parts are black powder coated finish to prevent rust.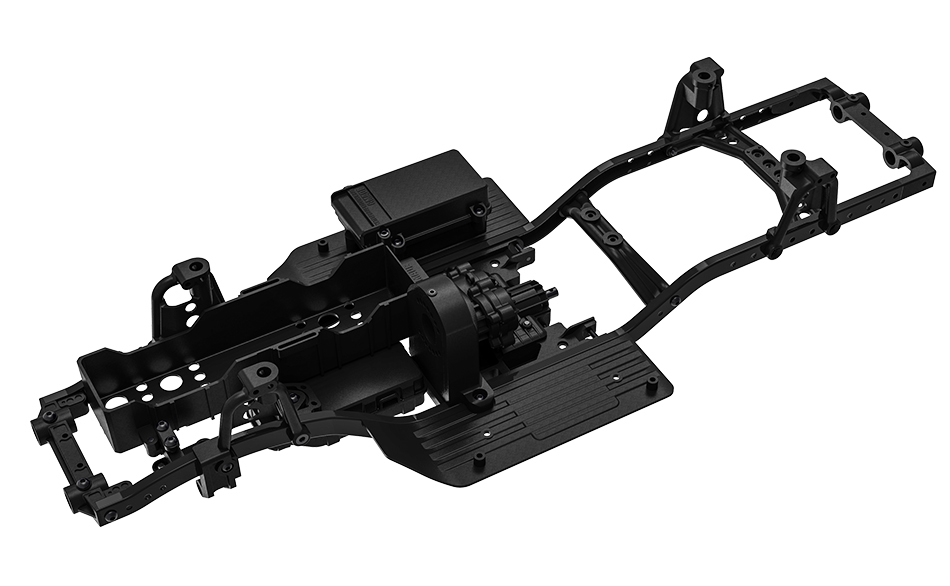 Steel Ladder Frame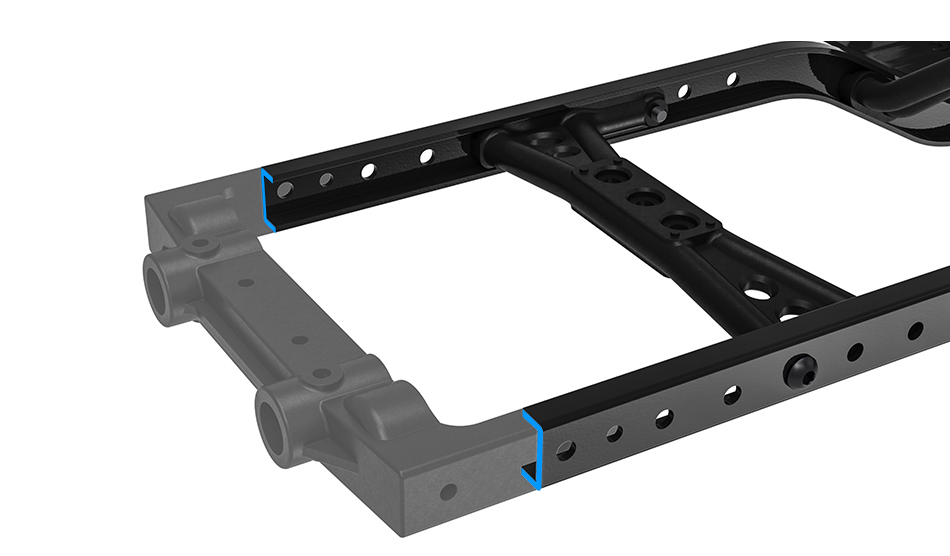 Adjustable Wheelbase
GS02 chassis allows three types of easy adjustment of wheelbase convert kit to use any type of 300, 313 and 324mm custom bodies.
(optioonal link kits are sold separately)

Front Weight Balance
BOM's weight balance designed to be placed on the front of the car.
This will increase the tire traction to the front wheel to provide better crawling on high tilt anglerocks and better driving performance when hill climbing and this will help minimising the vehicle's rolling over when climbing.

Chassis Mounted Servo System with Panhard Bar
BOM's steering system has a steering servo on the frame just like a 1:1 real car.
It is designed to make it as close to the zero bump steer so bump steer movement does not appear by front wheel suspension movements.
So we ended up with maximizing the steering performance of the vehicle.
In addition the Panhard-bar is designed to avoid interference with nearby parts, so that the front suspension and shocks can move freely without any loss.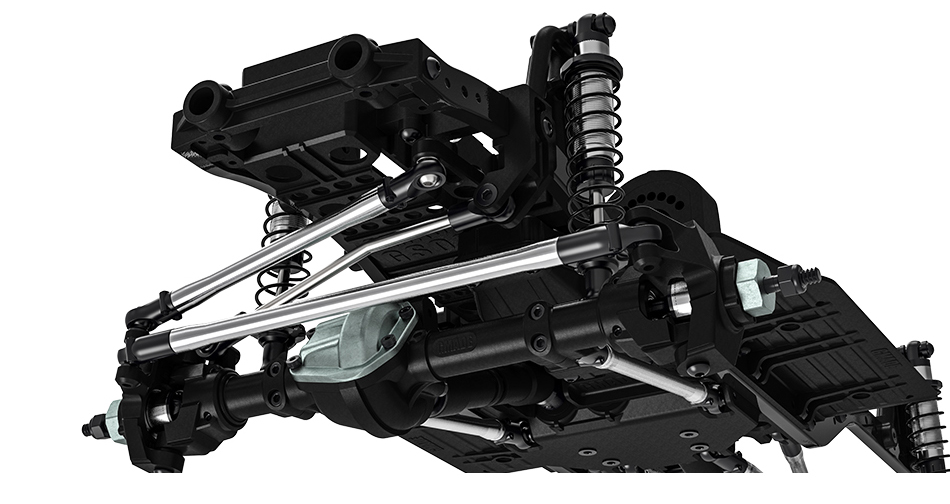 Waterproof Receiver Box
The waterproof receiver box protects the receiver from water, mud or snow.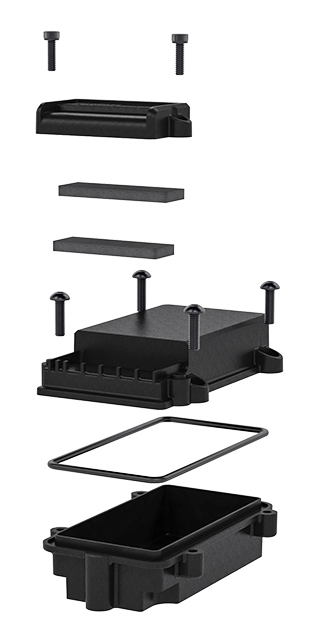 Battery Tray
The battery can be easily replaced and can accomodate up to 7,600mAh 2-cell Lipo batteries or 5,000mAh 3-cell Lipo batteries, (7,600mAh 2-cell Lipo or 5,000mAh 3-cell Lipo).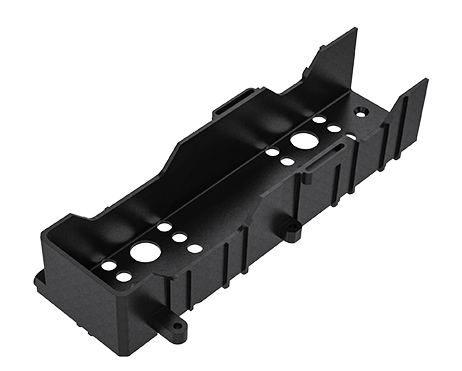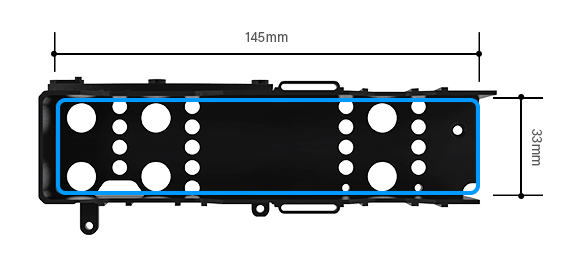 Dust Proof Electronics Box
It protects electronic equipment such as winch controllers and BEC, which are often used for scale trucks from foreign substances.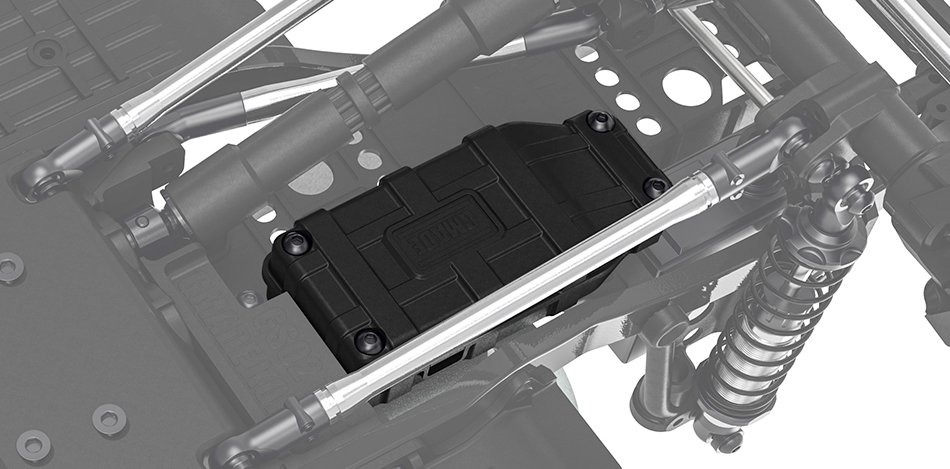 Front and Rear Bumper Mount
Mount to mount width 43mm

Skid Plate
The skid plate protects the transmission and other critical components by the flat surface that allows the BOM to slip and ride on rocks and other obstacles easily.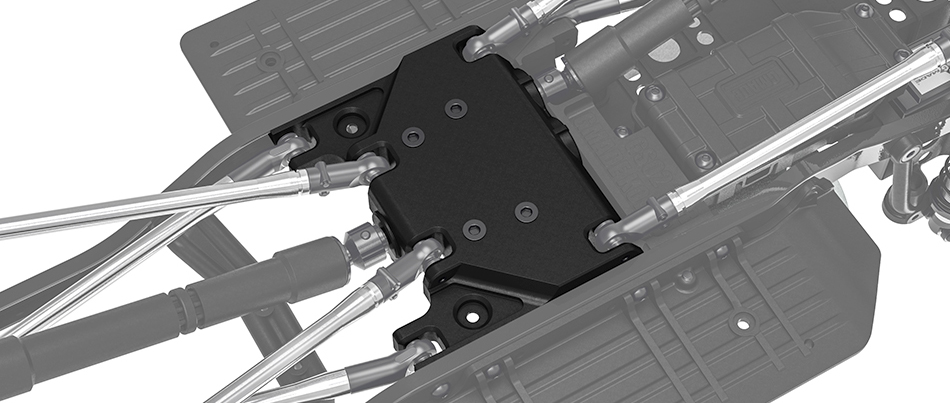 Drive Train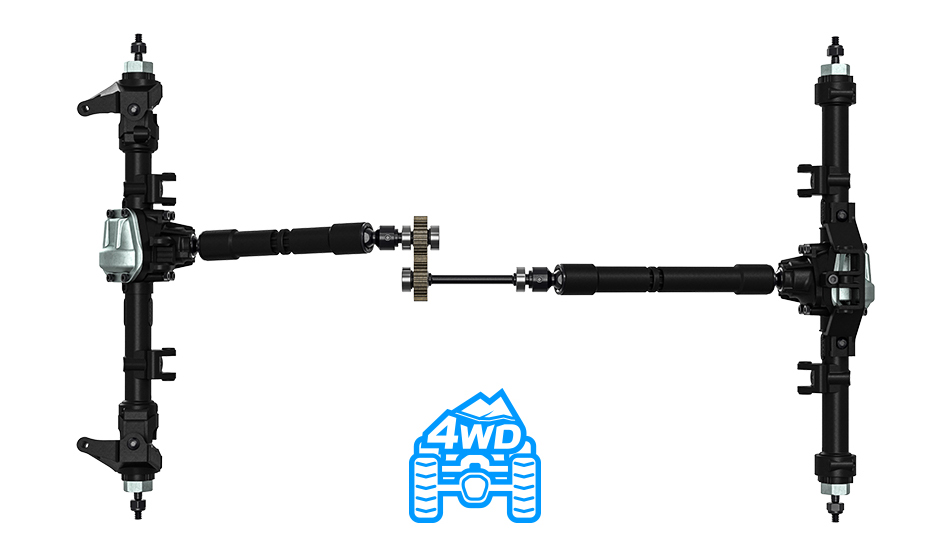 Drivelines
The drive lines of the front and rear axles are arranged in straight line to reduce the fatigues stress of the universal shaft and reduce the loss of driving power by providing efficient driving lines.

Torgue Twist Reduce Transmission
The TTR transmission is designed to drive in a stable position without putting the balalnce of power transmitted to the axle.
The front and rear universal shafts based on the transmitter each rotates clockwise and counterclockwise, this compensates for the forces acting on the opposite rotational forces due to the action (torque) and reaction (reverse torque) because this vehicle can run in asuper stable condition.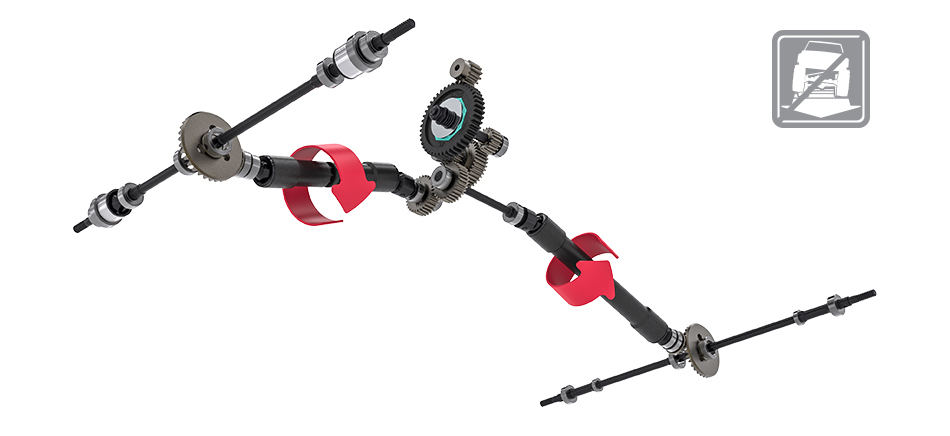 Dual Slipper Clutch
The slipper pads are designed to hold the spur gears evenly to allow more precise settings.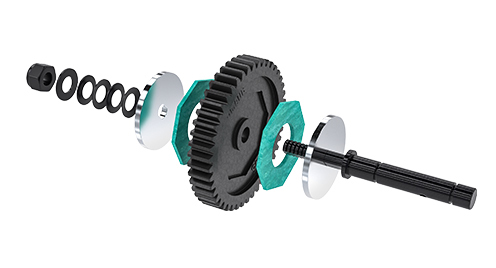 All Metal Internal Gears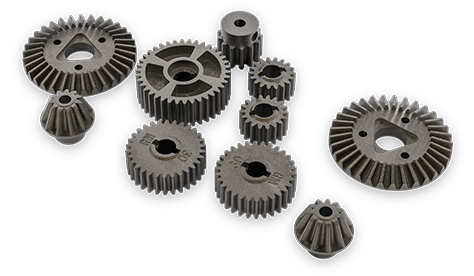 Hardened Carbon Steel Universal Joints
The front and rear universal shafts of the steel joints provides a smooth and stable power train.
The kit aslo includes the spare parts that allow you to adjust the length of the universal shaft.

Option Parts
2-Speed Hi/Lo Parts (GM30099)
The first gear is capable of hardcore rock crawling, while the second gear allows you to move quickly to your next crawling and climbing destination.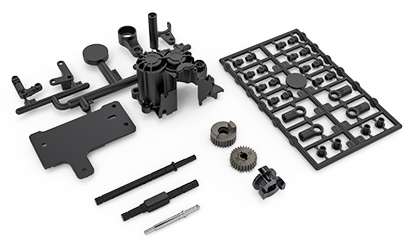 Easy Adjust Motor Mount
You can easily replace and install the motor pinion gear to changing the gear ratio.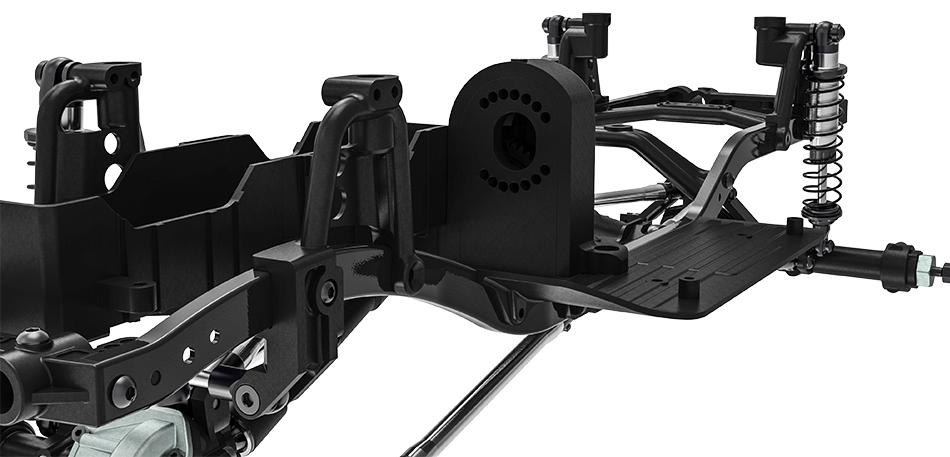 GA44 Axle
GA44 axle is designed with the hardcore rock crawler in mind.
Axles are made of high-strength materials, and it will look and perform optimum off-road performances as real 1:1 vehicle when 4-link suspension added.
The GA44 axle housing is a duable one-piece type.
The angle of the differential cover is designed to reduce the risk of damage due to frontal impact and is therefore very suitable for off-road driving.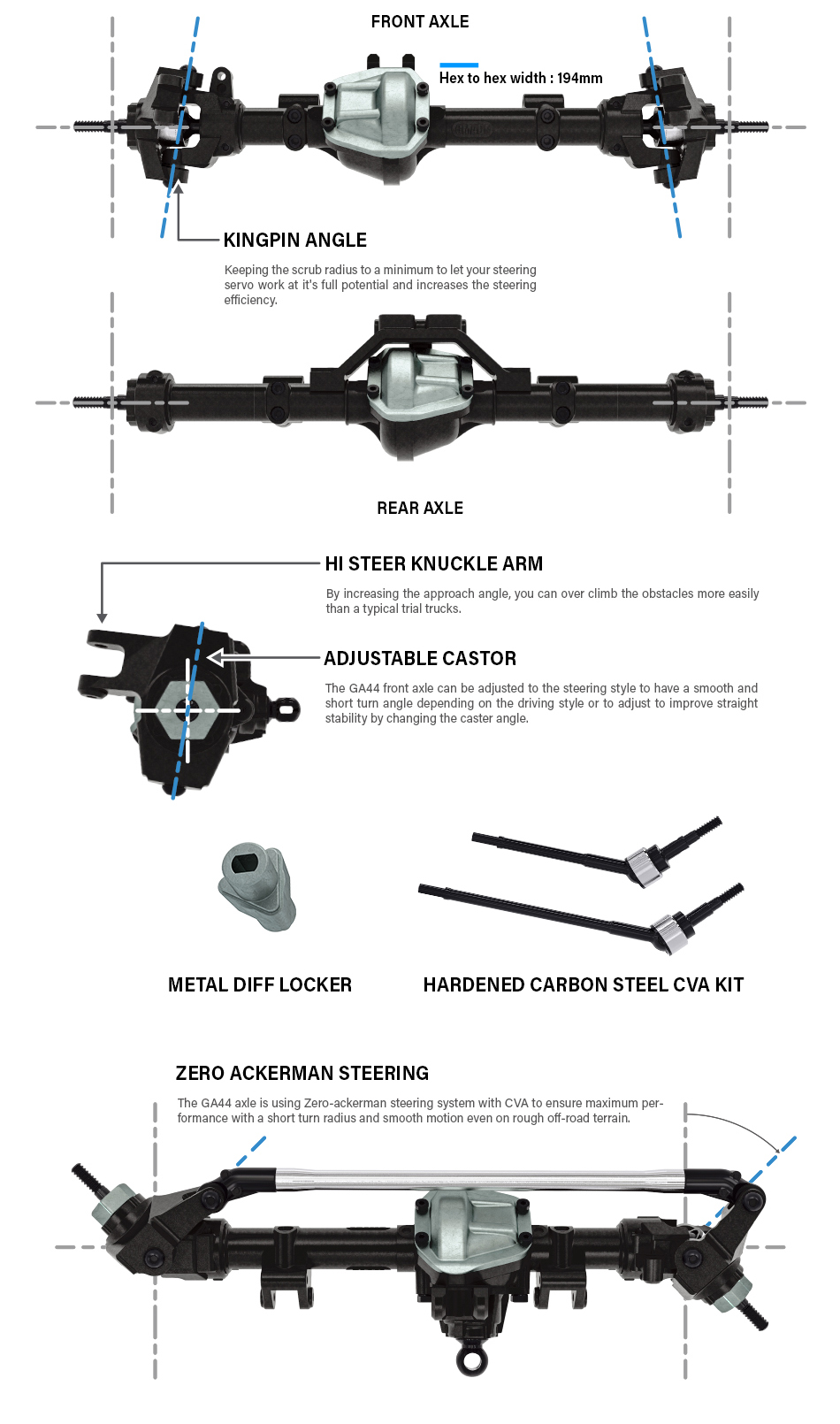 Body Post
Adjustable body post included to mount different shape bodies.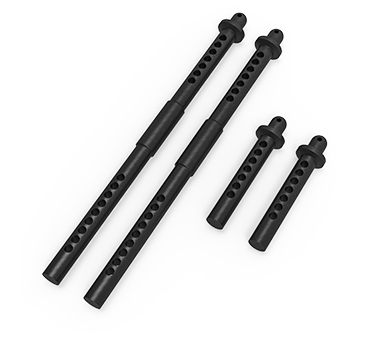 Suspension
SD Scaler Shock Absorber
SD Scaler Shock is a Coil-over styled oil shock absorber optimized for thew scale trucks.
The oil filled inside the shock minimizes splash when the vehicle is driven, and provides a high-durability aluminium shock body with 3.5mm heavy duty shock shafts are added, these will help you to drive roughly on rough surfaces.
Beginners also can easily assemble this shock and change setups, and the adjustable nut makes it easy to adjust the ride-height so you can quickly change your car setup even when driving condition changes.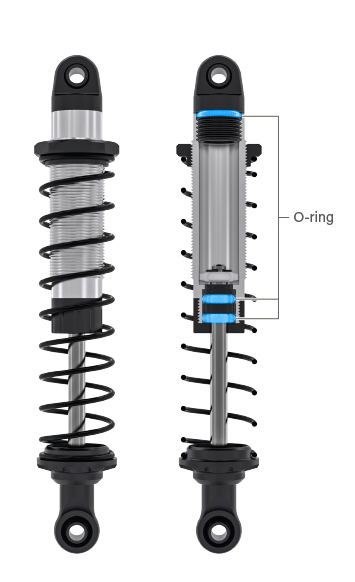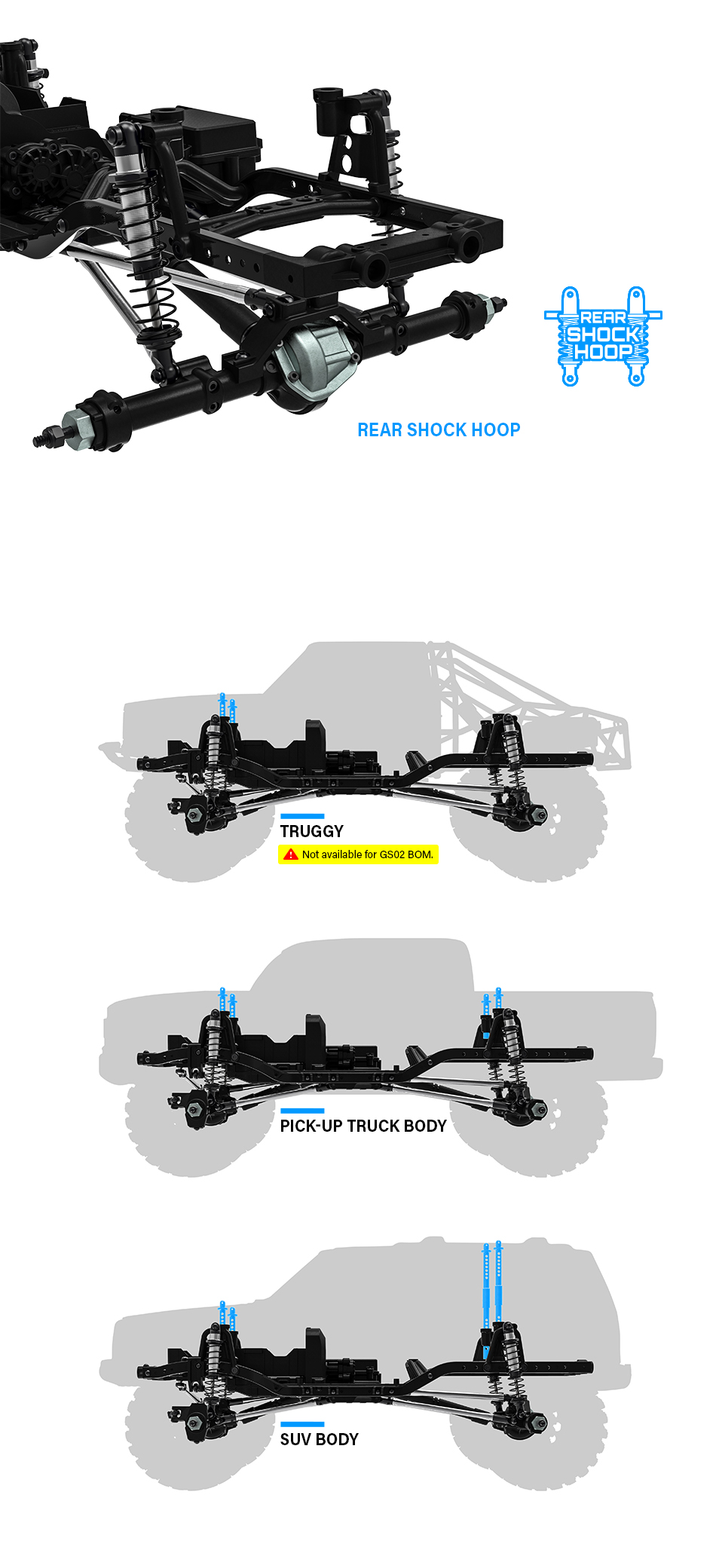 Spec