Details
Gmade 1/10 GS01 Sawback 4LS Scale Crawler Kit
£289.95 £324.95
IN STOCK, THE  COIL SPRUNG SAWBACK!!
GMADE 1/10 GS01 SAWBACK 4LS SCALE CRAWLER KIT
Following on from the Sawback and Sawback Sports the Sawback 4LS carries on with the scale performance and great looks with or without a body, the Sawback 4LS does not disappoint. The steel ladder C channel frame forms the ground work for a great rig and a scale finish. The steel has been nickel plated to resist corrosion, and looks great too! Next add a dust proof receiver box that has been molded to look like a real engine cover. The receiver box also provides a spot to mount your ESC to keep your rig looking clean.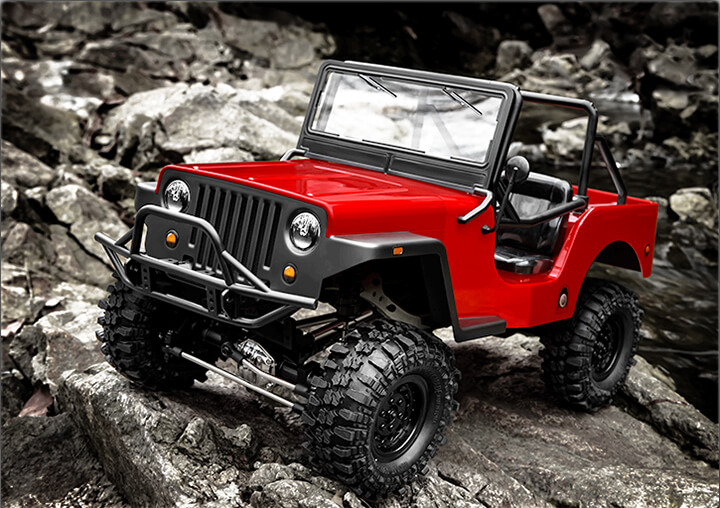 The 4LS version again delivers a level of scale authenticism that does not fail to disappoint and includes driver seat, roll bar, steering wheel, gear stick, mirrors, windshield plastic parts and dashboard decals. The windshield can be folded down on the hood just like the real car folding motion. All accessories are made of high strength plastic for durability from physical impacts.

The Sawback 4LS features a tube front bumper and the ability to mount head and tail lights. LED spot or fog lights can also be fitted to the bumper for night driving in style (LED lights sold separately).
---
GS01 Chassis
The GS01 ladder frame is designed to look like the chassis of a real car and is made of high strength steel. The C-channel side rail offers added stability and is bolted with cross members to aid against twisting or warping. The steel parts are also nickel plated for a glossy look and are resistant to corrosion.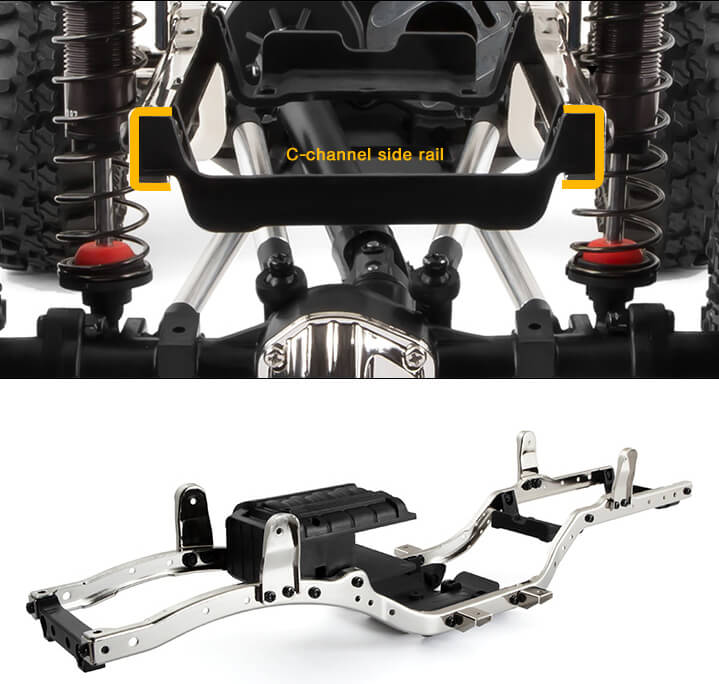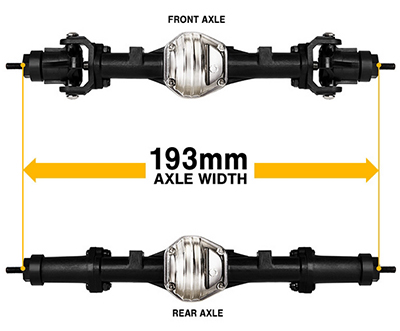 GS01 Drive Train
The one-piece graphite axle housing is made of high strength plastic for maximum durability and easy maintenance. Inside, both front and rear axles have solid differential gears to provide a stronger driving force in any driving conditions. The 4LS version has an extra 10mm width to increase the off road capability. The gears are protected by a glossy detailed metal diff cover for added scale realism.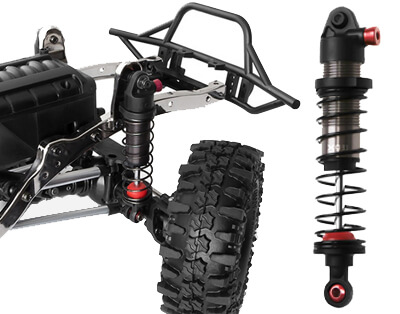 GS01 Shock Absorbers
The XD Aeration shock absorber is an oil filed coil over shock featuring CNC machined aluminium bodies and heavy duty 3.5mm shock shafts for maximum wheel travel and silky smooth suspension movements. Rebound can be adjusted easily by aeration cap screw, it is also easy to set the ride height with the adjustable threaded shock collar.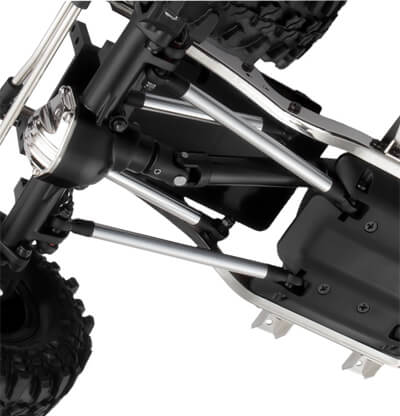 GS01 4 Link Suspension System
The 4 link suspension together with the oil shocks has been designed to reduce the torque twisting and help improve the off road performance on all terrains, such as mud, rock and hills
GS01 Adjustable Battery Plate
The GS01 battery plate is designed to offer the lowest center of gravity to the chassis to enable a stable driving motion. It is also adjustable, allowing different batteries to be used while still being held securely.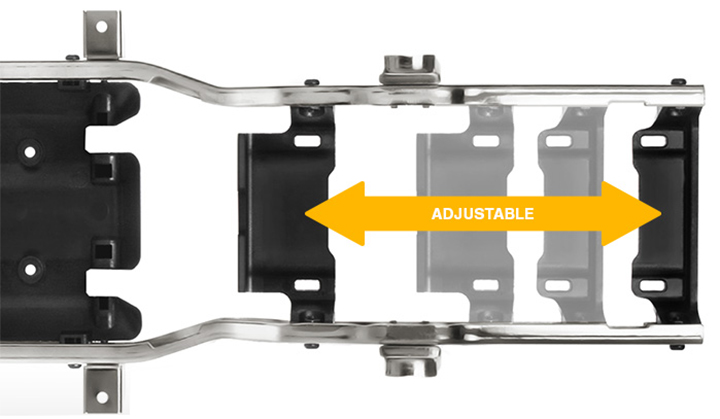 ---
Gmade Sawback 4LS Features:
Realistic GS01 chassis with high strength Nickel plated steel c-channel side rails
4 link Suspension system with XD Aeration aluminum shock absorbers
One-piece graphite axle housing
Solid gear diffs for both front and rear axles
Solid gear diff with a metal diff cover
Dust proof transmission box
Ball bearings in every rolling component
Powerful universal shaft
Realistic NR01 1.9" beadlock wheels made from high strength plastic
Super-soft MT1903 tyre with scale block tread pattern.
Adjustable battery plate
Realistic seats, steering wheel, shifter, mirror, and foldable windshield
Tube style front bumper

Spec Check:
Width: 234mm
Height: 255mm
Length: 463mm
Wheelbase: 287mm
Ground Clearance: 68mm
Weight: 1.7kg (without electric)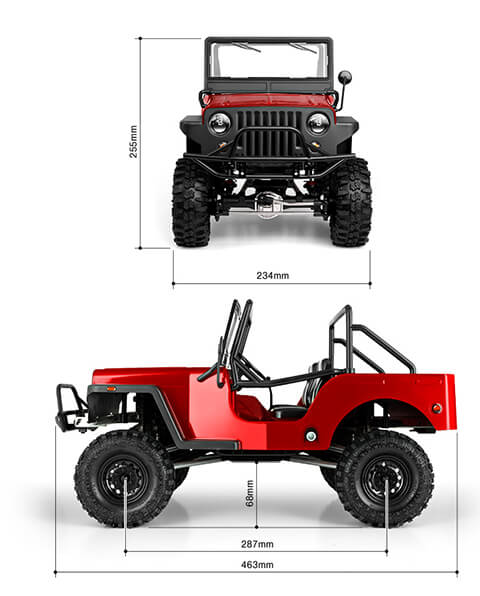 ---
1.9 inch M/T Off-Road Tyre and NR01 Wheel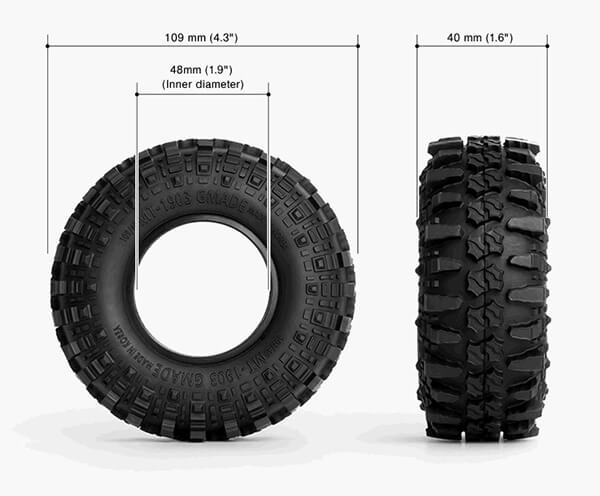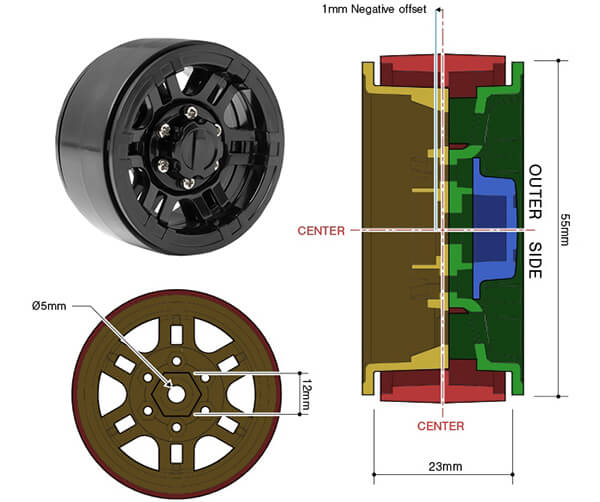 For ultimate grip the Sawback 4LS is supplied with Gmade MT-1903 Tyres on NR01 1.9 inch beadlock wheels. The super soft tyres provide a high level of traction when crawling but are also suitable for general off-roading.
Tyre Spec:
Tyre Height: 109mm
Tyre Width: 40mm
Inner Diameter: 48mm
Wheel Spec:
Wheel Diameter: 48mm
Wheel Width: 23mm
Wheel Hex Mount: 12mm
Wheel Offset: 1mm Negative offset
PLEASE NOTE: This vehicle is sold in kit format and requires the following for completion: Radio control system, motor, ESC, servo, 7.2v battery and charger and paint.