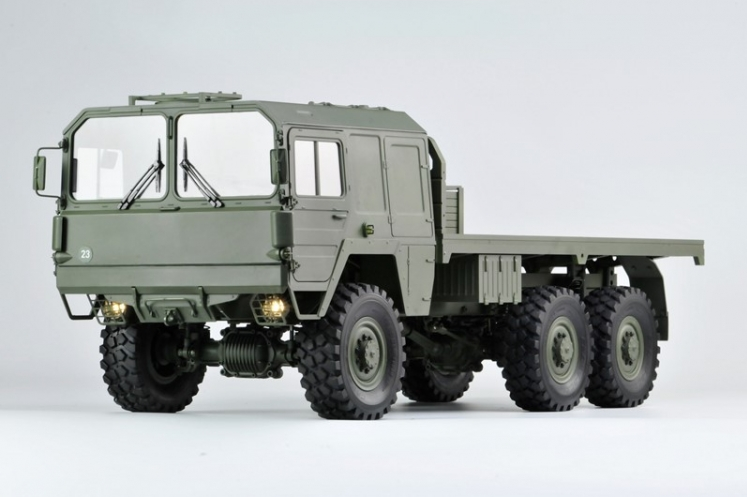 Details
MC-6 Super Scale Complete Kit Version C
£619.95 £649.95
Version C

New from Cross-RC are these new re designed super scale MC6 kits.
Totally re tooled CNC and moulded high quality ABS cab and rear bed components.
These are stunning examples of the 1/12 scale Man Kat 6x6 trucks supplied in kit form and includes a 45t high torque motor and full lighting system and many scale detail items.
Can also be fitted with the Cross-rc sk1 full truck sound system. requires a 3rd proportional or 3 way switch channel to start stop engine or sound horn.
Minimum 3 channel radio required for operation
CAB                     INJECTION MOULDED
DOORS               OPENABLE WITH LINING
REAR BED           MOULDED WITH WELDED GUARDRAILS
TOOL BOXES      MOULDED
BATTERY BOX     MOULDED
CAB                      FULL CAB INTERIOR
LIGHTING            FULL LINKAGE SET
TAIL LIGHTS        TRIPLE LAMPS
MIRRORS             STEEL WIRE WITH FRAME AND LENSE
FENDERS              METAL AND RUBBER
HOOKS                 METAL
SHOCKS                METAL
WHEELS                STEEL
TYRES                    50009 GRAVEL TREAD NEW
SPARE TYRE          PLASTIC
AXLES                     ALLOY
DRIVE SHAFTS      STEEL
GEARBOX              ALLOY 2 SPEED STEEL GEARS
SPEAKER               SOUND SYSTEM AND SPEAKER INCLUDED
TARPAULIN          WIRE FRAMES WITH TARPAULIN
1/12 R/C Military Truck Kit
Features:
Assembled axles
Assembled gearbox with installed motor
Assembled wheels/tires
Assembled damper units
LED light set included - works with most modern radio gear
Includes detailed illustrated instruction manual with Chinese text
TRUCK KITS REQUIRE:

Radio Gear with receiver and servos x2, 4-channels recommended
Electronic Speed Controller
Battery: 6-cell flat with standard Tamiya connector or equivalent
Charger: suitable for above battery
Tools and paints to complete r/c model